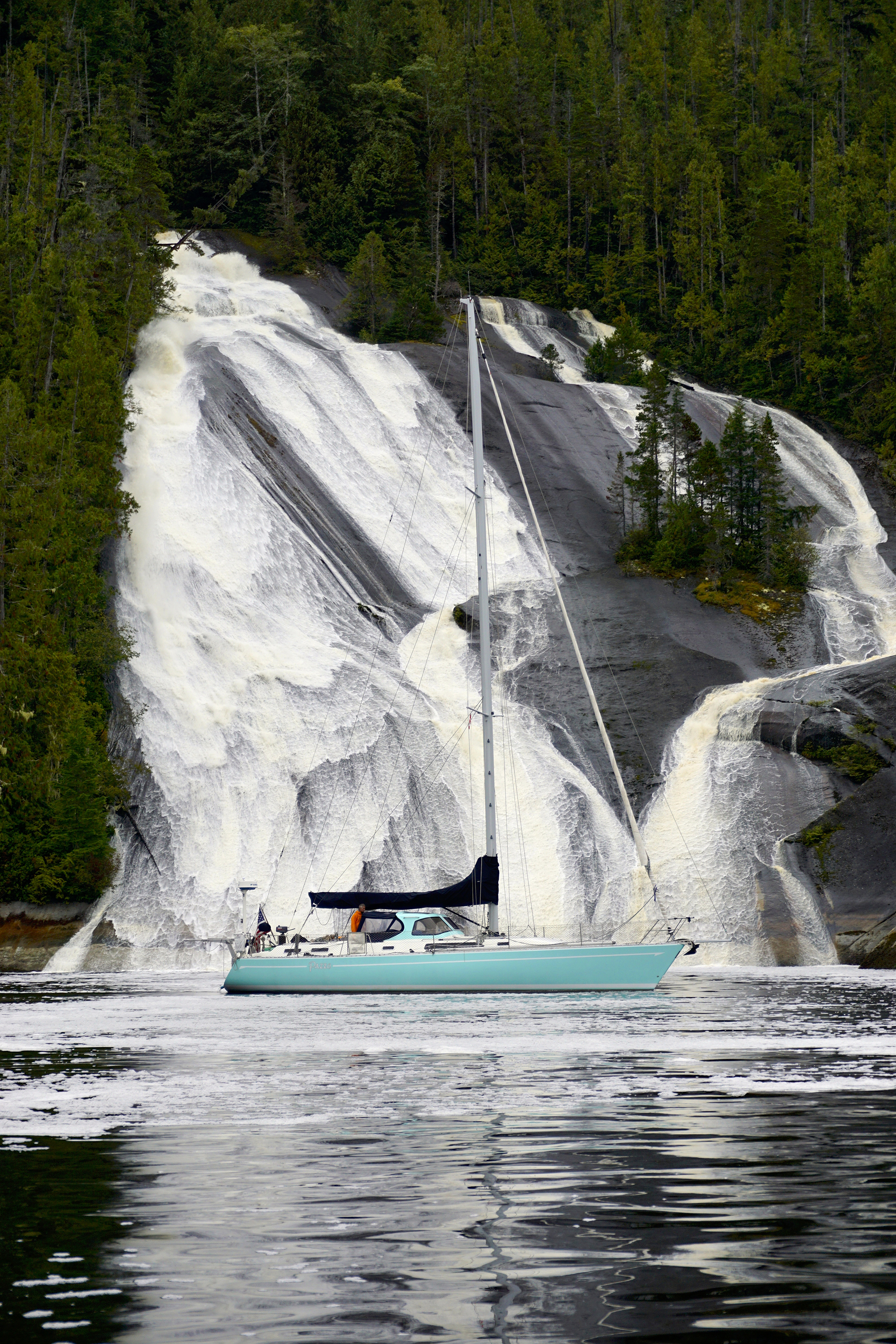 Pazzo is a renovated Lightwave 48, designed by Carl Schmacher and built by Oyster Marine in Ipswitch, England. She is hull number 16 of 19 yachts built by Oyster between 1988 and 1991.
Specs
LOA 48 Feet
Beam 14'6"
Draft 6"
Displacement 28,000 lbs unloaded, 31,000 loaded
Mast 74 Feet off the water, + antennas
Diesel capacity: 100 gallons in fixed tanks plus 50 gallons in a PVC bladder that lives on the aft deck when passaging.
Water capacity: 85 gallons with watermaker to refill at a rate of 20+ gallons per hour when engine is running
Refrigeration: 3 cubic feet of freezer and fridge space, chilled by engine drive compressor or DC electric compressor.
Solar and wind generators to charge batteries in addition to large engine alternator.
History
Paul Burger from Southern California commissioned Carl to design a moderate displacement performance cruiser with 6' draft and suitable for two couples. The result is a center cockpit sloop with a modified fin keel (much like a Cal-40) and a balanced spade rudder. The center cockpit allows for a generous aft owner's stateroom, leaving the front half of the boat for guests and family.
Since buying the boat in 2002, we've completed 3 refits:
2002/2003: Replaced aging gear, new 120% genoa, staysail, storm jib, storm trysail, and symmetrical spinnaker. We rebuilt the engine, refrigeration, added a water-maker, and replaced most of the electronics.
2005: In New Zealand, we rebuilt the decks. This involved stripping the decks of all hardware, removing the top skin of the sandwich construction, removing all the balsa core and replacing it with Divinicel Foam, and finally rebuilding the top skin with new glass and vinylester resin. Along with barrier-coating and repainting the bottom, and many other upgrades, we invested about 2000 man-hours over a 5-month period.
2014-2016: Added hard dodger, repainted hull and decks, replaced aluminum mast with Carbon Fiber mast from NZ Rigging in Auckland, NZ., rebuilt rudder in carbon and epoxy, replaced SSB radio, autopilot, windlass, sails, heads, upholstery, and added wind generator, AIS system, bow sprit for asymmetrical spinnaker, DC refrigeration (to augment our engine-drive refer system).
The result is a fun and comfortable yacht that will take good care of us as we explore this wonderful world.